HARIO V60 Filter Paper 02 Size 100 pcs
Regular price

Sale price

$10.00
Hurry, only 15 items left in stock!
Amount of coffee

Each bag of specialty coffee contains 250 grams of whole beans.

Each box of competition style coffee contains 100 grams divided into 2 x 50 grams of whole beans.
Wholesale

Looking to buy larger quantities? Check out our wholesales section.
How to brew

The Double Bloom | 15 g coffee/250 g water

⏱ 0:00-0:10 | 50 grams
⏱ 0:30-0:40 | 50 grams
⏱ 1:00-1:10 | 150 grams

Brew time for this recipe should be between 2:40-3:00!

Regarding extraction, this recipe results in a TDS value of 1,35 ≈ 20,5 % extraction.

Download our FREE V60 brew guide, The Double Bloom Recipe here: PDF or ePUB
Shipping with UPS

With UPS we can guarantee a fast and professional delivery service that makes sure you get your coffee fresh.
Shipping with Post Nord

For international shipping: Once PostNord has shipped your coffee out of Sweden they hand it over to the destination country's national post service.

If you have special delivery instructions or requests, please leave a note in your cart before checkout.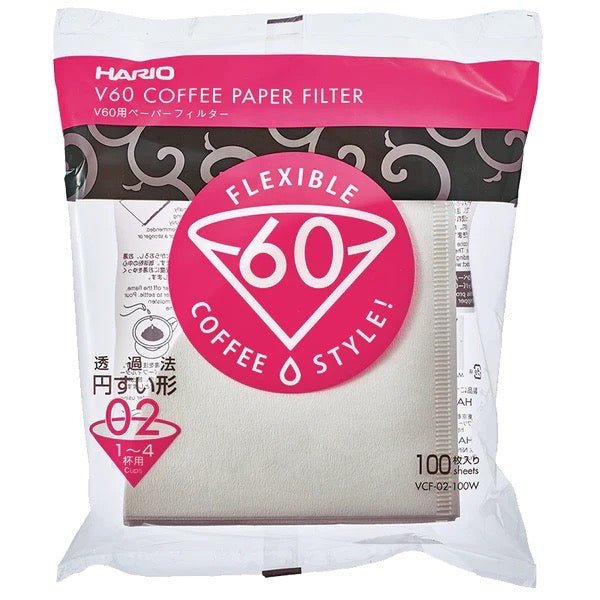 Product Details
Filter paper plays an essential role in the brewing of a cup of coffee. This paper, oxygen bleached (and therefore chemical-free), is compatible with the HARIO V60 02 dripper.

The paper allows you to extract all the goodness and aroma from your freshly ground coffee beans. These filter papers are also biodegradable, meaning that they are good for the environment.
Before brewing your coffee, make sure to rinse with boiling water to get rid of any unwanted flavours contained in the paper.
Download our FREE V60 brew guide, The Double Bloom Recipe here: PDF or ePUB
ARTICLE NO.: VCF-02-100W
COLOUR: Bleached
CAPACITY: 1-4 cups
WEIGHT (Incl. box): Approx. 100gr
Made in Japan.